Best 7″ HID headlights for your Classic Ride!
Our kit fits Classic Muscle cars!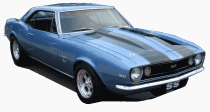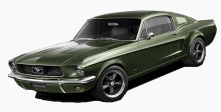 Our kit fits Classic Foreign cars!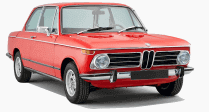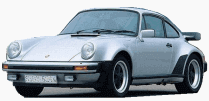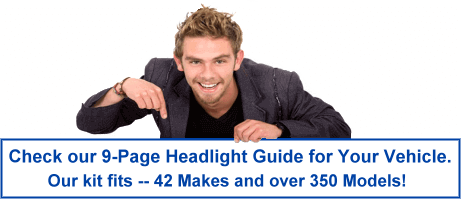 So you've been considering upgrading your sealed beams or H4's. And you've been scouring eBay, Amazon, forums and Googling, yet you can't decide who has the best 7″ HID headlights for your classic ride, right?
You can stop wasting your time now looking at inferior products. We've got what you've been looking for. We don't try to be everything to everyone. We get it that you won't install cheap junk into your classic ride. You need high-quality.
"We do one thing — exceptionally well
."
We sell (one) Premium 7″ round HID headlight conversion kit. And we believe you're going to love it! All of our components are of the highest-quality. We even helped design part of the headlight! Here are the facts:


HID Xenon headlights consume 25% less power than Sealed Beam or Halogen headlights and produce 200% more light.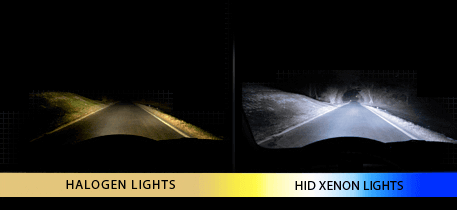 Which would you rather drive with at night?
Our Premium kit uses (55w, ASIC CANbus ballasts), the good stuff! All of our ballasts have an ASIC chip – application-specific integrated circuit (ASIC) chip. It is more expensive to utilize this chip in ballasts, but the chip can accurately monitor the bulb's power requirements in real-time, thus giving you the highest reliability in an HID ballast.
We set the new standard in high-quality 55 watt HID ballasts!
You may be wondering why use ASIC CANbus ballasts? Quality, reliability and compatibility! Because some of your cars may have EFI and an on-board computer. Our CANbus ballasts don't cause error codes. And because our ballasts and bulbs are 55 watts, they produce 40% more light than the cheaper 35 watt ballasts you see everywhere! AND, we use Bi-Xenon Projectors, meaning High/Low beam in one headlight.
For all cars using a 7″ sealed beam headlight, Halogen H4 upgrade or, 6012/6014/6015/H6017/H6024, with a 12v electrical system and about a 6″ mounting depth available, our headlights should be a easy install replacement headlight.
FAQ's
See our HID Headlight Facts page for more information.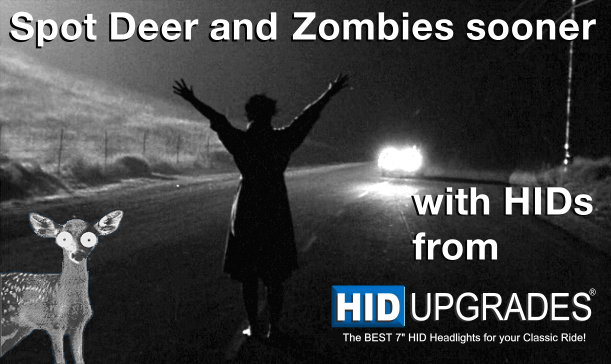 Okay, maybe zombies not so much… But deer for sure!
Our competitors don't compare well at all…
A well known competitor of ours charges "more than twice the price of our kit" and spec for spec, it appears our components are better!

Another competitor charges $459.00, for just 2 headlight housings. No bulbs, no ballasts, no DRL lights and no controllers! What? Are you serious? Our kit is $69 bucks less. And look what you get!


Our Premium kit is Bi-Xenon and uses a 2 & 1/2″ High/Low beam DOT compliant HID Projector inside. In metric, that's a 64mm HID projector.

Not 42mm projectors like some of our competitors. 42mm, that's 1 & 5/8″! Really? Why so small guys?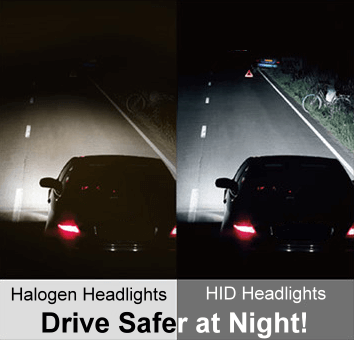 Look above. Which would you rather have in your ride?

18 Month Warranty, $389.95 + $10 UPS Ground flat-rate shipping. That's right, shipped anywhere in the 48 states for 10 bucks!
A few people have contacted us and have said our kit is overpriced. To that we say, let's put things into perspective. Our kit uses only high-quality parts. We don't sell the cheap HID junk parts you can find on many websites.

And secondly, consider this comparison. My wife's car is a 2009 Mazda 6 Sport. Nice car, but it's 14 years old. So what would you guess just one headlight housing would cost?

Keep in mind, this is just the headlight housing. No bulbs, no electrical and a "Plastic Lens". Click to show popup , to see Autozone's online price.

$699.98 + shipping for two headlight housings. And you think we're too expensive? If you still feel our kit is overpriced, you should probably be looking at a different website. Because we won't sacrifice our quality and sell cheap HID junk.

Our Premium HID kit, version 2 components are:

2 – 7″ Weather-Proof Plastic/Metal Headlights w/Chrome Reflectors & GLASS Lenses. Say goodbye to those cheap, yellowing, or clouding plastic/polycarbonate lenses that you see everywhere you drive! Durable, GLASS lenses baby! And no raised patterns in the glass lenses that cause light scatter!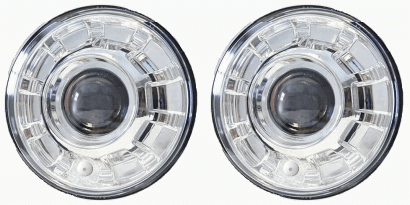 2 – 64mm/2 1/2″  HID Bi-Xenon Projectors & 140mm COB – (circuit on board) DRL – (daytime running light) Halo Rings. 6000K bright white.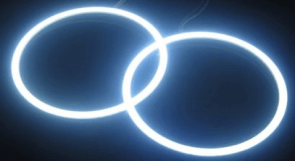 2 – 12v, 55w, ASIC, waterproof, shockproof, fast-start, HID CANbus ballasts with RF shielded cables.
Thin High-Tech. The new standard for high-quality HID 55w ballasts!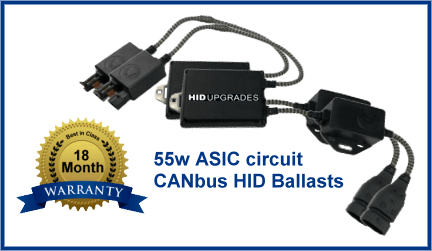 Our Ballasts are — 4 Layer Printed Circuit Boards, (not common 2 layer).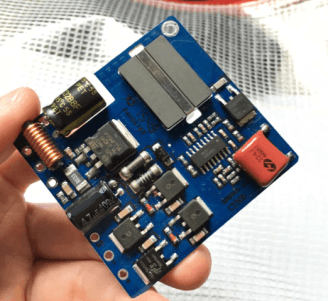 2 – OEM Grade – HID H1, 6000K Bulbs w/metal bases. NOT the ugly bluish purple. 6000K bright white baby!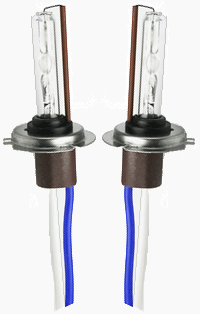 H4/6014 to H1 HID Conversion Wiring Harness with Sealed Waterproof HID Controller & Fuse.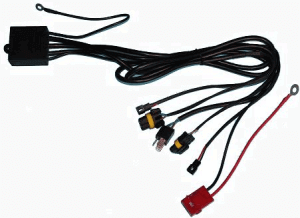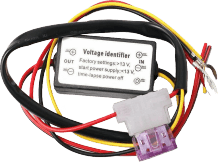 We'll even throw in a DRL Controller with auto shutoff. Beat that competitors!

Our Premium 7″ round Bi-Xenon HID Headlight Conversion Kit ships to the 48 contiguous states, with an 18 month warranty.
18 Month Warranty, $389.95 + $10 UPS Ground flat-rate shipping. That's right, shipped anywhere in the 48 states for 10 bucks!
Don't become another statistic of night driving accidents, because you couldn't see clearly…
Customer testimonials:
"I have installed the headlight kit for my customer and he is pleased with it. Our RestoMod 1972 2002 BMW required us to cut the headlight bucket slightly in order to fit the headlights. They are very bright and we received many compliments at the Hemmings Concours d'Elegance show in Saratoga Springs, NY on Saturday the 26th of September 2015 where we brought the car for its debut.

I've attached a few photos of the headlights installed and the DRL Halo Rings lit.

Cheers,
Brett" AutoMotion – AutoMotionClassics.com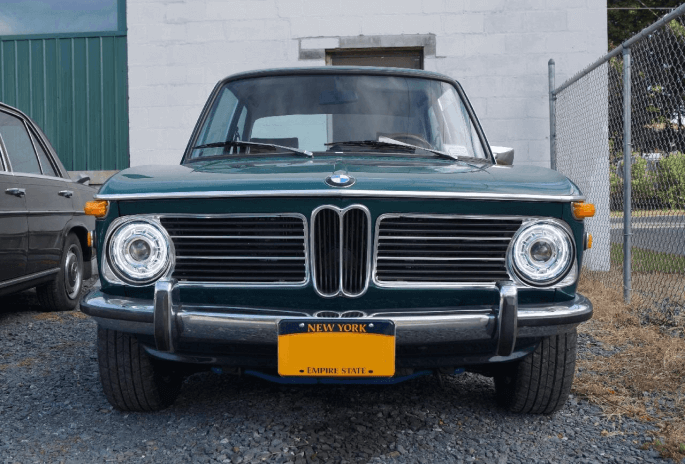 Another customer:
"Finally got around to installing the headlights the other week. Night and day difference, no pun intended. Kevin L."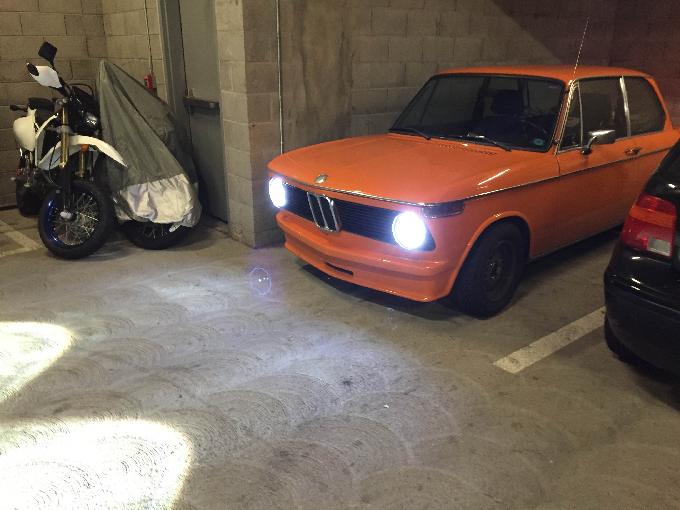 Another customer:
"I finally got these installed and took a drive the other night. The lighting is incredible! You have my recommendation. Josh B."


If you find our headlight guide below helpful, tell your friends. If they have 7″ round headlights, it's highly likely our Bi-Xenon HID headlights will fit!

Buy our kit for your ride, send us a pic of our HIDs installed and lit up and we'll feature your car here! Who else does that?


If you'd like to see our HID kit specs, click on the pdf icon below.


Click on the pdf icon below to see if your American car or truck, or foreign car is listed in our 9-page HID headlight conversion guide.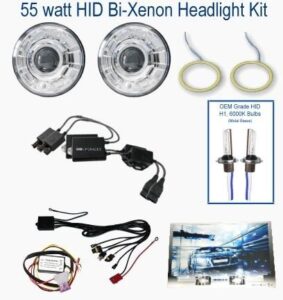 Ready to buy?


Our kit is in high demand. Sorry, we are SOLD OUT of stock! Our last shipment sold out FAST and this one did also.Please email us to get on our list when new inventory is available.

Contact us with your pre-sales questions, or if you have any order problems.