Best Restomod HID headlight kit
Call out to — DIY car guys and custom build car shops nationwide!
Restomods are my favorite, they just make sense. Re-engineer a car using today's engine, suspension, braking, lighting and electronics parts that make it safer, faster, more comfortable, reliable and just more fun to drive!
I know because I'm a car guy and have been for over 40 years. I've owned over 25 cars, both American muscle – a Camaro, a 68 Mustang, 2 69′ Roadrunners and classic foreign cars that include, – a VW Rabbit, 2 Opel Manta's, a 911 Porsche, eight BMW's and several other cars.
Here's a pic of my 911 from 1981. I bought this from (Peter Nestler, Porsche Meister) in Germany and imported it back to the US. I miss her…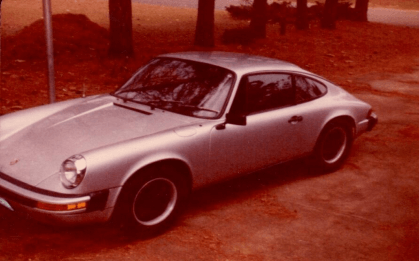 Being close to the finish of my most current restomod project on my 1974 2002 BMW, I decided to do a headlight upgrade. And I decided I wanted complete 21st century lighting for my 2002 BMW below. I needed Bi-Xenon HID headlights and LEDs everywhere else.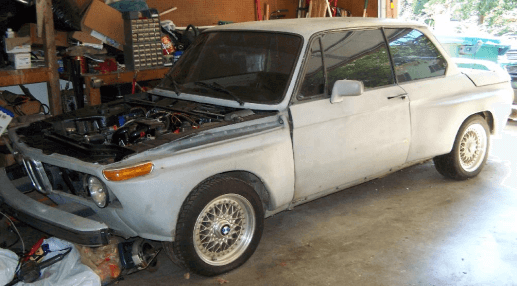 When searching for an HID headlight kit in 2014, most of the kits I saw were either overpriced, under spec'd, short warranties, or just plain junk. So, I decided to put together my own kit.
It was only after selecting and testing kit parts for months, that I realized the 7″ round Bi-Xenon HID headlight kit I had put together would fit so many other cars.
This kit is a great Bi-Xenon HID headlight kit for so many restomod projects, both American and foreign cars.
This pic below is just the 140mm – COB (circuit on board) DRL – (daytime running light) Halo ring lit. Not the HID projector H1 bulb. Because it has so many LEDs, it looks like one continuous CCFL ring. It can be wired to a DRL controller for some slick effects, or to your parking lights.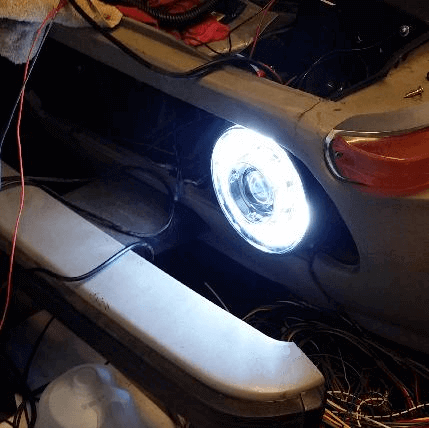 Whether you have a classic muscle car or foreign classic, if it's a 7″ round headlight, we've got you covered!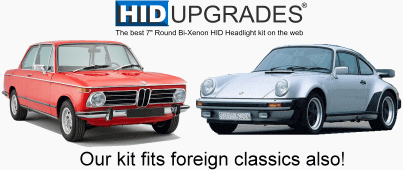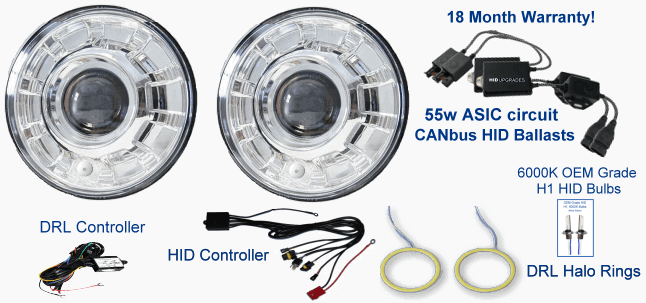 Come see our kit specs, components, warranty, our 9 page HID headlight guide and our customer testimonials on our main page HERE.
Happy Motoring from the HID Upgrades Team!