Bi-Xenon HID headlight conversion kit
Our new version 2 Bi-Xenon HID Headlights are IN STOCK! Place your order today. Our last shipment sold out quickly! And yes, they even fit classic 2002 BMW's!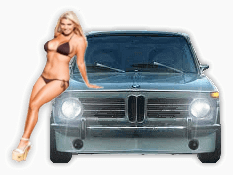 Our bright white HID Bi-Xenon headlights with 140mm COB Halo rings are awesome! They add that cool late model look to your 2002 and these HIDs really cut through the dark of night for safer driving. See what 2002 owners have said on our main page.

And, for those of you that haven't upgraded your alternator, (they use less power). What's not to like?
The wiring for our Bi-Xenon HID Headlights is very straightforward using our HID controller wiring harness, (wiring diagram included). Make a few connections, mount a few parts and you're done! The 140mm COB Halo rings are wired by your choice.
You can hook them up to a DRL (daytime running light) controller that does some slick on/off functions (we include one), or wire them to your parking lights. Either way, they are super bright white and look freakin' awesome!
Whether you have a classic muscle car, truck, van, or foreign classic — if it's a 7″ round headlight, we've got you covered. See our 9-page guide.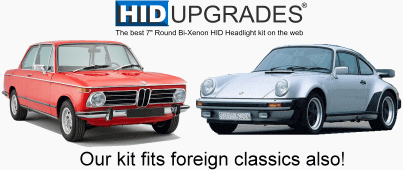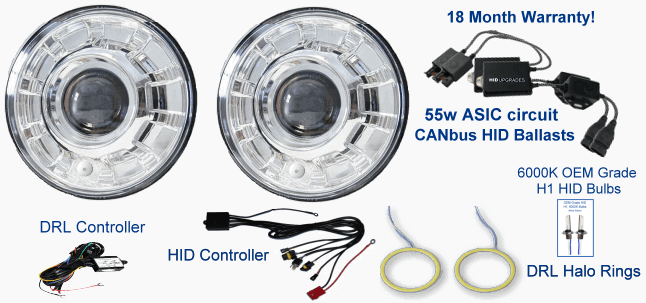 Come see our kit specs, components, warranty, our 9 page HID headlight guide and our customer testimonials on our main page HERE.
Safer night driving from the HID Upgrades Team!